I awoke at 3:30 a.m. I must have been concerned about my electrical fiasco. I was beginning to suspect that my whole approach to this vacation, which had worked so well on the two trips to Italy, did not work at all. This has in many ways been more stressful than staying home. However, at this point the only thing to do was to try to make the most of it.
I dragged the small chair into the bathroom, turned on the light, and worked on my journal. It was actually a pretty comfortable arrangement.
One piece of good news was the fact that the computer batteries fully recharged overnight.
I went back to bed at 4:30 and woke up at 7:15. Sue slept in.
Doubly bad news was disclosed at breakfast. The day after Pentecost, Whit Monday, was a national holiday in Hungary. Neither the stores nor the schools would be open. The shopping spree that I had planned would be difficult if not impossible. It also meant that we might not get to meet the school children at lunch. Many of the people who had taken this tour had reported that the lunch with the children was the most interesting part of the trip. Oh, well.
I deemed that acquiring batteries was more important than buying a pair scissors. I went out on the town desperately seeking some AA batteries or, if possible, a charger. My first stop had to be at the bankomat. I wandered around for a bit until I found the one that Tom and the other tour members had used the previous evening. I got mixed up and got way too much in forints. There was no way of alt-backspacing what I did, and almost nothing was even open in Eger. I would have to try to exchange some of it on Tuesday in Budapest. Even that might be difficult. What a helpless idiot I had become!

I walked all around the town. Hardly any place of business was open. The store with scissors in the window was closed. One Hungarian word became indelibly etched in my memory: "Zárda," which means closed.

After an extended period of fruitless meandering I encountered the Millers coming out of a camera store on Dobó square. Two miracles then occurred. 1) The store actually sold AA chargers. 2) I managed to get the clerk to understand what I wanted. A charger with a European connection only set me back about $15, and it came with four batteries. I triumphantly returned to the room and plugged it in.

My computer was a model of decorum. I turned it on three times with no trouble at all.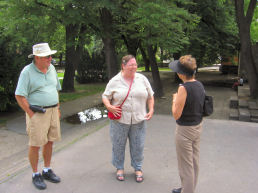 After I got all my electrical stuff in order, Sue and I walked over to the Cathedral of Sts. Peter and Paul. Unfortunately, the organ concert that we had hoped to attend had been cancelled. We walked around the inside of the church for a while. Even though this church is definitely quite active, they allow tourists to walk around and take pictures, even flash pictures, at will. I tried not to use my flash, but most of my pictures did not come out very well because I could not hold the camera steady enough. The highlights for me were the frescoes on the ceiling. I noticed that the ones closest to the main altar were much more faded than the ones nearest the entrance.

Susana had informed us that all churches in this part of the world are aligned along the same axis. The main entrance of the church is always in the west, and the apse is always in the east. If a church were built in a baseball stadium, the entrance would be at home plate, and the apse would be in center field. This may be true in all (or at least most) European churches, and it is a handy fact to know, but it is certainly not true in American churches.
An ancient legend held that the Turks believed that the Hungarians were such fierce fighters because they drank bull's blood. Actually, what they were drinking was red wine. The wine from this region was heavily marketed by the Communists. Its primary grapes were Kadarka, which were quite difficult to grow.
Hungarians always wrote their surnames first. So, in this country Bela Bartok's name in print would be Bartok Bela.
The region of the Tokaji (Aszú) grapes was east of Eger. The sweet taste of Tokaji wine comes from adding to white wine the skin of red grapes that have been pierced. The sweetness level was measured in puttonyos (or "putt"). A wine with eight puttonyos was very sweet.
Olasz rizling was a very common wine in this region of Hungary. There were many wines with colorful names like sheep's tail.
Mandatory schooling started at age five for Hungarians. High school was from age fourteen to eighteen, but some might start earlier.
Edit, the teacher with whom we woul talk in a few minutes, believed that the Communist education system was better, mostly because it was more disciplined.
Parents paid for food in the Hungarian schools, but some were subsidized.
The Gypsies were required by the government to send the children to school, but most Gypsy kids were not much interested in learning. The Gypsies were still a big problem in Eastern Europe. They refused to assimilate, they were a big drain on the budget because few of them were employed, and they produced a lot of offspring. They still had arranged marriages at a very young age.
At our table was a postcard from one of the students. Joanne and I got cards from the same student, Bettina Suha (or in Hungary Suha Bettina.) The card said "Welcome to Recsk. I hope you'll enjoy your lunch. Have a nice journey and remember our school. - with love - Bettina Suha." It appeared that all of the cards had the same message. We were charged with writing a postcard back to the kids from the states as soon as we got a chance. The challenge would be not losing the postcard [a challenge that I met and conquered! I mailed Bettina a card with a picture of the Mark Twain house in Hartford] .
Edit said that the Hungarian school year lasted from the first of September to the middle of June. They were allowed a week off for Christmas and a week for Easter. They attended classes from 8 a.m. until 4:30. Music classes were held in the evening. Four hundred students took their lunch in the cafeteria. She mentioned that there were ten types of high schools, and that students could be bussed (she called the vehicles "coaches") up to twenty kilometers. I did not understand this; I should have asked about it, but my brain was worthless on this day. There were twelve lessons a day with nineteen to twenty-eight students per teacher. Every student was required to learn English or German. About 60 percent chose English.
Joan asked about how they enforced discipline. Edit responded that unruly children were required to work in the garden or clean instead of participating in sports. There was no corporal punishment.
80 percent of the high school students go to college, but few would be able to find jobs in Hungary when they graduated. Maybe that was the motive for the requirement of proficiency in two foreign languages to obtain a degree. The teachers were overworked and underpaid. The union was not very powerful. There were not enough teachers, and there was an exodus from the small towns by the best students.
40 percent of the students in Recsk are Gypsies. They usually have five or six children per couple. The young people must attend school until they are eighteen, but, according to Edit, they mostly just went through the motions. Many were good at music. Others were interested in sports. Most of their parents were unemployed. None of the teachers in Edit's schools were Gypsies. In fact, Edit seemed surprised that we would ask such a question.
We then thanked everyone and hit the rest rooms. I was shocked to discover that the division between the male restroom and the female one did not go up to the ceiling. We could overhear what the ladies were saying! I could not imagine such a thing at a school. It seemed like an invitation to mischief. We then went back to the bus. As I sat down, however, I realized with alarm that I had left my black backpack in the school. I immediately notified Susana. The two of us jogged back to the school. I tried to go the wrong way on the street, but she straightened me out. We found the door to the school open, but the door to the classroom was locked. No one at all was around Susana sent me outside to flag down Edit if she drove her car out of the school parking lot.

I did as Susana asked. The only car in the parking lot was the old Opel that had pulled in as we were assembling outside the school. After a few minutes Susana came out with my backpack. She did not say how she obtained it, but I had to suspect that the tour guides had all been supplied with a secret Rick Steves back-door lock-picking kit and exclusive training as second-story men for just this sort of emergency.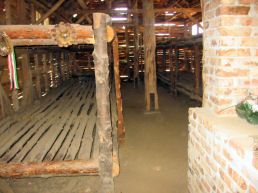 Susana assured me that it was not a big deal because the group did not have a tight schedule on that day. Nevertheless, I felt like an incompetent fool. It really upset me that everyone had to wait for me. It occurred to me that most people would probably be having a much better time if I could just disappear.

To pick up my spirits we then drove to an old gulag that the Communists had operated from 1950 through 1953. No one inside or outside of Hungary had mentioned the existence of the camp until the late 1980's. The workers detained there were only given about six hundred calories of food per day, and they were forced to work in a quarry all day long. 1,500 people were interned at the Recsk camp. Only one person successfully escaped. In all of Hungary 200,000 people were held in such camps.

The exhibit contained a reconstructed barracks, a watchtower, and a monument. It was a fairly peaceful place, but there was really not much to see, and it certainly did nothing to improve my mood.
We all boarded the bus for the wine-tasting. On the way we passed an ostrich farm. It reminded me that I had seen two ostrich farms in Italy. Susana said that ostrich meat was yummy. I also saw a scarecrow standing in a field. There were probably more ostriches than scarecrows in the U.S., but I could not remember the last time that I had seen either of them. Scarecrows have become obsolete in the land of the free; we just put poison on our food crops so that the birds won't eat them.
Egéscégedre
" (EH geh sheh dreh) for each toast.
The two stars of the show were Orsi (OR shee), a student who was still working on her English, and Toni the Gypsy violinist. Someone else stayed in the background. My impression was that she was Orsi's teacher. Orsi wore a shawl, and Toni wore a red vest even though it was not a bit cool.
Toni played one of the Hungarian Dances, "If I were a rich man," "Somewhere over the rainbow," "I could have danced all night," and a few songs that I did not recognize. A couple of times Toni, who seemed to play incredibly skillfully with no effort whatever, punched Tom with his bow. It did not appear that Tom was dozing off or calling the office on his blackberry. Evidently he did not look attentive enough for Toni.
We sampled five wines: Olasz rizling, an Italian Riesling blanco (bianco?), Chardonnay, Blue Frankish Rose, Zweigelt, and Cabernet Sauvignon. The first two were whites, the third was a rosé, and the last two were reds. I liked the last one best. Of course, by the time that we got to it we had already had four glasses of wine and a shot of brandy. I probably would have liked turpentine. The rosé was my least favorite.
István made the ridiculous claim that Hungary was on the same latitude as the Napa Valley of California. If he is going to say something like that, he should not use a map. It clearly showed that Hungary was much farther north. Maybe Orsi misinterpreted him, or maybe I misinterpreted her. [I looked this up. Eger's latitude is 48.6° north. Napa Valley is 38.55°.]
The highlight of the visit was the dance called the Csárdás (CHAR dahsh) that Ibolya did with Tom. It is. I took quite a few pretty good still shots, both of the terpsichorean exhibition and of the crowd's reaction.
I tried to get everyone's picture at the wine-tasting. I could probably make pretty good money bribing people not to publish some of them.
Sue bought some wine and a CD from Toni. He needed a lesson in capitalism. He ran out of CD's! Americans with forints burning a hole in their pockets were gathered around him, and he had no inventory!
It was sunny and pleasant during our visit to the farm. As we were about to boarded the bus, it turned threatening. At one point there was a double rainbow. It was easy to see but difficult to photograph.
It rained for nearly the entire return bus trip. When we got back to Eger, it cleared up again. It occurred to most of us that this would be a nice way for the weather to behave throughout the rest of the trip. Bojan might not agree.
Tom had told us that the castle was worth seeing up close, but neither Sue nor I ever made it up there.
Sue made a new folder on my laptop for her movies. She downloaded them, but for some reason they were not in the new folder. I advised her to be careful with the settings and download them again. When I fell asleep she was downloading them the way with which she was familiar.