I woke up at 2:30 to go to the bathroom. I tried to get back to sleep, but I was never able to do so. I arose before the alarm even went off.
It was chilly again – 48 degrees outside.
Sue and I did not eat any breakfast before we packed up the Cruz, said goodbye to Art, and drove to Tampa International Airport. There was not much traffic on Gulf-to-Bay or on the road that led to the airport.
I nearly panicked when we reached the airport itself and discovered that the rental car return exit was closed! I had never heard of such a thing. I maneuvered the Cruz through the departures area toward the exit and found another entrance that was labeled "Rental Car Return." After that it was smooth sailing through Avis, the Southwest ticket counter, and security, which I always found aggravating.
When we reached the gate area Sue made a beeline for the chairs so that she could rest her knees. I bought from a little stand a cold breakfast wrap that was supposed to consist of ham, egg, and cheese, but also contained onion. It was bad, but it kept my stomach from growling.
I sat with Sue in row 2. The head flight attendant had a patter that I found quite funny. When we landed I told him how much I enjoyed his act.
The pilot announced the temperature at Bradley as 5 degrees. This was not a joke.
During the flight I broke out my Bose headphones for the first time since I had been on the treadmill at the Crown Plaza and listened to Mozart on my iPod. Somehow Sue and I were overlooked when they passed out the free beverages. Sue fell asleep for periods throughout the trip, but I was awake the entire time. I never found out why or how they skipped me.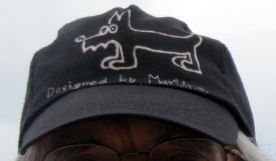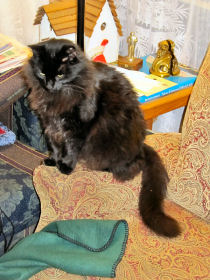 I made a lot of progress on the second hard Sudoku in the
Spirit
magazine, but I did not have time to finish it.
[1]
In the bustle of disembarkation I accidentally left on the plane the cap that our Czech friend Martina had made for me a few summers earlier. Bummer.
The pilot announced that it was 8 degrees outside when we landed. It was not very windy, and so it did not seem extremely cold.
We made it home without incident. By the time that I left for the office there was still no sign of Giacomo, but he came to visit Sue a little later, and he was definitely starving for affection.

---
[1] I finished it by the end of the day.