Chapter 5: Bottom Feeders
Relishing the Franks
mirabile dictu
, the Franks had made good on their promises. For the first time in centuries the pressure on papal holdings from the so-called barbarians was checked. Never mind that by any objective standard the Franks were probably less civilized than the Lombards. If they were barbarians, the Franks were at least Catholic barbarians, and that made them Holy, Roman, and Imperial. The Lombards and their ilk were just heathens.
Although the popes of the 800's could finally afford to consider issues other than survival, the Renaissance did not begin in the ninth century, and neither was there a rebirth of spiritualism. Over the centuries less effort was expended delineating orthodoxy and rooting out heresy. Western Christians may have even grown too ignorant to discuss theology. The schools Charlemagne had established early in the century died out. Soon only the clergy received any education worth mentioning.
Here are samples of a few of the tastier offerings of the somewhat bland ninth-century pontificates. Following these appetizers will be served dishes spicy enough for any palate.
St. Accomplice I
I do not know how Sr. Mary Immaculata would explain the fact that he disinterred the bones of over 2,300 Christians who were considered martyrs.
Legends differ as to whether God or a saint showed Paschal the location of the missing remains of St. Cecilia. Somebody's skeleton was exhumed at the pope's direction and placed in a church named for her in Trastevere.
[1]
dropped into the single digits. When his death was announced the next year, the assembled throng let out a cheer. His corpse was not even allowed inside St. Peter's.
Paschal granted the first papal indulgence. Its recipient could forgo some or all of the punishment in purgatory for venial sins. Eight hundred years had elapsed before a pope finally realized that his power of binding and loosing might reach to purgatory. Later popes would apply the whetstone to this seemingly innocuous tool of mercy and transform it into a deadly weapon.
Trial by Water
[2]
The accused, sometimes weighted down with a millstone, would be cast into the water. If the accused remained near the surface of the water, he/she would be extracted, and the sentence would be executed forthwith. If the subject was innocent and therefore sank, officials would attempt to retrieve him/her from the depths. It wouldn't matter much whether the rescue effort succeeded. Anyone who drowned would die with a clean conscience and assurance of the Final Reward. It was a win-win-win situation.
If the method seems a trifle medieval, it was surely more humane than the "hot water" and "fire" versions of trials by ordeal. In 1215 the Fourth Lateran Council prohibited trial by cold water, so it was officially approved by the Church for a little less than four centuries.
The Miracles of Pope Leo IV
What a pity that Sr. Mary Immaculata never informed us of the deeds of Pope Leo IV, the saint who served as pontiff from 847 to 855!
Today he is best known for the walls that he built around the Roman neighborhood that includes the Vatican, an area still known as the "Leonine City." The sixteenth-century artist Raphael immortalized him in
The Fire in the Borgo
, which depicted him using the sign of the cross to extinguish a fire raging in the Anglo-Saxon area of the city before it spread to St. Peter's Basilica.
[3]
Our class learned a little of St. George and his dragon but nothing of this feat of papal derring-do. It's a pity. Any story about a pope slaying a monster with deadly halitosis would have held our attention.
Not everyone shares the conventional opinion concerning the saintliness of Pope Leo. Cormenin concludes his treatment of this pontificate with these remarks:
Other writers, equally commendable for their information, affirm that the Holy Father founded a convent of nuns in his own house, and that he abandoned himself with them to the most abominable debaucheries; they accuse him of having been of a sordid avarice, and they cite, to sustain their opinion, the testimony of the celebrated abbot, Loup-de-Ferriere. In fact, this monk, having been sent to Rome as an ambassador, took care to fortify himself with magnificent presents, "because," said he, "without this indispensable precaution, one cannot approach Leo the Fourth." Finally, historians maintain that the care of his personal safety, and not his solicitude for the people, was the only moving cause of the immense works which he caused to be executed in the Roman province.[4]

The Pope Who Returned from the Grave
[5]
but there has only been one Formosus. A second is unlikely.
[6]
Once again it was rejected for legal reasons. Instead, in 869 Adrian sent Formosus to settle some problems in France. Three years later the pope dispatched him to consult on matters of imperial succession in Trent. Formosus evidently ran the diocese of Porto from his BlackBerry.
When Adrian was succeeded by Pope John VIII, Formosus himself had been a candidate for the papacy. The new pope ordered Formosus and two other bishops to France to visit King Charles the Bald. This was evidently not simply a ploy to get a potential rival out of town. The trio brought with them an invitation for the king to journey to Rome to be crowned emperor.
Although no one associated him with these groups, Formosus also made himself scarce. Perhaps a little birdie told him that a name that began with "F" and ended with "osus" was high on the pope's enemies list. He never linked up with the other fugitives. Instead, he fled to the abbey at Tours, a singularly strange destination in a territory controlled by the new emperor.
[7]
defrocked, and excommunicated.
In 878 Pope John and the synod lifted the excommunication, but only after Formosus swore never to return to Rome or perform any sacerdotal functions. He was out of circulation until John VIII passed away in 882. His successor, Pope Marinus I (also known as Martin II), immediately released Formosus from his oath, restored his diocese, and summoned him to Rome. Marinus was succeeded by Adrian III and then Stephen V (VI). Formosus kept his nose clean throughout their pontificates. He was elected pope by the people and the clergy of Rome in 891, the first former excommunicant, as far as we know, to become pontiff.
[8]
to resign their offices. This news was not appreciated by those affected, even though Formosus granted them absolution if they repented.
[9]
successor, invaded Italy at the pope's request. The next year Formosus crowned Arnulf as emperor. This duplicitous act did not sit well with Lambert and especially his mother Agiltrude.
Formosus died on April 4, 896, but he was not soon forgotten. The next pope, Boniface VI, reigned for only fifteen days. He reportedly died of the gout, but his illness may have been aggravated by involuntary amateur surgery practiced by the Spoleto henchmen.[10] Boniface's inclusion in the papal roster is somewhat hard to countenance. He had been defrocked twice, and at the time of his papal investiture he had evidently never been reinstated. Moreover, a papal council later invalidated his selection.
Margaret Hamilton has been dead for decades, but if a movie were made about this incident, it is hard to imagine anyone else portraying Agiltrude. Maybe Margaret could be CGIed in.
[11]
The charges echoed the ones that John VIII had leveled a quarter of a century earlier. Even someone who flunked moot court could imagine some pretty persuasive arguments for the defense – double jeopardy, the decrepit physical state of the defendant, the fact that he never actually became archbishop of Bulgaria, etc. However, the deacon tasked with defending Formosus never uttered a word. Who could blame him? He may have feared that the only way to avoid retching was to keep his mouth clamped shut.
Formosus's corpse was convicted. The papal vestments were torn from the cadaver. The three fingers with which he had consecrated the host were broken off of his hand. His remains were flung into the Tiber. The carcass was, however, fished out downstream and preserved by sympathetic monks.
[12]
His successor, Theodore II, was the son of Photius I, the notorious Patriarch of Constantinople whom Pope Nicholas I anathematized and whom the Roman Church has blamed for the Great Schism. Theodore's pontificate only lasted twenty days, but not only did he manage to get Formosus's corpse entombed again in St. Peter's; he also called a synod to annul all decrees of the Cadaver Synod. Formosus's pronouncements and ordinations were reinstated. The next pope, John IX, confirmed these judgments.
That the Roman clergy overlooked Sergius's transgressions would not surprise Sr. Mary Immaculata. After all, the prelates were experts on the scriptures, and in Matthew's gospel Jesus indicated that his followers should forgive sinners 490 times.
[13]
The fact that Sergius had been hand-picked by the strongest Roman faction may also have entered the equation.
Pope Sergius threw Pope Christopher in prison. Did he appreciate irony enough to make Christopher share a cell with Leo? Unfortunately the record is not clear about either deposed pope's fate. Both may have died in prison, one or possibly even both at Sergius's order.
Some have alleged that Sergius had Formosus disinterred again, beheaded, and thrown back in the Tiber. In any event what was left of Formosus's corpse eventually did manage to find its way to a crypt in St. Peter's, which is where it will remain unless some future pope takes a notion to convene another Cadaver Synod. There seems to be no statute of limitations on crimes like coveting a Bulgarian bishopric.
Theodora and Marozia Turn a Few Pontifical Tricks
By the beginning of the tenth century Rome was a mess. The city's population and importance had shrunk to a small fraction of the levels of the empire's heyday. No industry and little commerce remained. If not for the papacy and the revenue from pilgrimages, Rome might have become a ghost town, as happened to its once thriving neighbor, Ostia. The engineering and architectural techniques responsible for the marvelous edifices of the Roman empire had long been forgotten by the Romans. When they needed to construct or repair a building, they simply cannibalized materials used in the magnificent imperial structures. E.R. Chamberlin painted this picture of the period:
[14]
but it was the Romans themselves who dismantled the classical city and that for the most humdrum of reasons – marble, when burned, yields lime which can be used for plaster. The scores of limekilns in the city were each fed by irreplaceable fragments of past glory. The great blocks of travertine that formed the core of the walls were broken up to make byres and hovels. Those columns that escaped the limekilns, or were not incorporated into new churches, lay where they fell, protected at least by the accumulated rubbish. … A contemporary of Augustus or Nero … would have been appalled by the filthy conditions of the streets themselves. Many were permanently blocked by collapsed buildings; all stank in high summer. The city that had known the splash and play of countless fountains now endured an endless drought, for the great aqueducts were ruined.
[15]
[16]
[17]
became Pope Sergius's mistress and bore him the child who eventually became Pope John XI.
* * *
Time, ref.
bambini
with names like those? Well, Theophylact and Theodora are obviously Greek in origin. In the early eighth century a famous exarch named Theophylact made an official visit to Rome; maybe he left a microscopic memento in one of the ladies in Tusculum. Descendants of the Theophylact family with more euphonious names remained influential throughout the centuries.
[18]
and vows of chastity were almost never required for participation.
[19]
and then in those of Berengar II, the ruler of much of Italy. Changing princes was a propitious move for Liutprand; Otto defeated Berengar in 951 and eventually became Holy Roman Emperor. Otto appointed Liutprand bishop.
Anyone studying the tenth-century papacy must determine how much to trust Liutprand's accounts. He knew his subject matter, he was present for most important events, including the historic councils, and he was personally acquainted with many influential participants. On the other hand, he was a vindictive man who hated Berengar and his wife and disparaged Romans and their lifestyle. And when it came to shading a story to further his own political purposes, Liutprand could compete with twenty-first century spin-doctors.
Back to the popes.
* * *
Meanwhile, Marozia employed her marriage bed to fashion her own alliances. First she married Alberic, the Duke of Spoleto. He died in 926. Shortly thereafter she latched onto Guido (now you're talking!) of Tuscany, who died in 929. Her third husband was Hugh of Provence. She had two sons that we know of, John, whose father was probably Pope Sergius III, and Alberic, sired by Alberic of Spoleto.
[20]
in this chapter. So, I propose to designate Alberic of Spoleto as "A1", Alberic the son of Marozia as "A2", and the Alberic who appears in the eleventh century as "A3". There was also a Bishop of Milan named Alberic, but he does not merit a number. If he wanted one, he should have done something outrageous.
By 928 Marozia held the titles of Senatrix and Patricia of Rome. She was the boss, period. Her top priority was to remove Pope John X. She enlisted her hubby Guido's help in this endeavor. First, John's brother Petrus, the prefect of Rome, was assassinated in June. Shortly thereafter Guido's men seized the pope himself and provided him housing with a stylish iron door. He died therein within a year. According to Liutprand he was suffocated with a pillow. Flodard of Reims has written that he died of "anxiety." You would be anxious, too, if you were tied to a bed in prison, and someone came at you with a pillow. Incidentally John never resigned, and he was still alive when each of the next two popes were enthroned. Nevertheless, all of them are considered legitimate popes. Let's not waste S'ter's time with this trifle; things are getting interesting.
Marozia had by then overcome her grief over the death of second husband, Guido. She wanted to marry Hugh of Provence, the King of Italy, who was Guido's half-brother. By the canonical laws of the day, the marriage was incestuous – without a papal dispensation. Pope John brooded over the theological, philosophical, and moral implications for a few seconds and then gave the happy couple the go-ahead. In fact, he performed the nuptials himself, the only time that a pope ever presided at his own mother's wedding ceremony.
Cat Ballou
had been bitten off in a brawl. Maybe the pope frequented bars on the wrong side of the Tiber, and something similar befell him. Unable to locate a suitable metallic prosthesis, Stephen was too ashamed ever to appear in public again.
Marozia expired in prison, probably during Pope Leo VII's pontificate. During Agapetus II's papacy, A2 apparently began to sense intimations of his own mortality. He had ruled Rome for over thirty relatively peaceful and prosperous years. All Roman nobles were indebted to him in one way or another. In 954 he made the pope and Roman nobles swear that they would elect his illegitimate son Octavian as the next pontiff. When A2 died on August 3, Octavian immediately assumed his father's offices of Prince[21] and Senator of Rome. In October of 955 Pope Agapetus also approached the Pearly Gates.
Dude, Like Chicks Go Wild When They Kiss My Papal Ring
Octavian's date of birth is unknown, but he probably was no more than eighteen when he was consecrated, for lack of a better word, as pope on December 16, 955. Was Octavian the youngest pope? Maybe. The ages of many popes are unknown, but one can hardly imagine other circumstances in which a teenager would be selected. The equally astounding story of another juvenile pontiff will follow shortly. Oddly, Octavian may not have even been the youngest patriarch in the church. "At the same time, the See of Constantinople was occupied by Theophylactus, a patriarch of sixteen years, who ruled over the corrupted clergy of the Greek church."[22]
The name "Octavian" is absent from the list of popes. When the young man became pontiff, he changed his name to John, which made him Pope John XII, or, as he probably preferred, Popemaster J.[23] Only one pope had previously taken a new name at his investiture. Doing so was counter to canonical laws of the day. The emphasis is on "was," because in the 900's the pope could adjust the canons at will, especially if he was simultaneously the Prince of Rome.
[24]
Pope John appointed his horse as Senator. I would not be surprised if he trashed a few hotel rooms in his day, as well.
The pope's military escapades attracted the attention of the King of Italy, Berengar II, Liutprand's old boss. Berengar had a real army at his disposal, and it easily defeated the pope's ragtag outfit near Ravenna. However, Popemaster J had a few tricks up his camisia. He offered the crown of the Holy Roman Empire to Liutprand's new employer, King Otto, who directed his army over the Alpine speed bump and entered Rome on February 2, 962. The young pontiff crowned him emperor on February 13. Shortly thereafter Otto affirmed the territorial rights of the Papal State and even increased its reach with his own "Donation." In return the pope pledged fealty to the emperor. "Word." Otto declared that all popes would swear the same oath. "Whatever." German beer and Italian wine flowed freely in celebration. "Sweet."
Historia Ottonis
can be read today. John was convicted of a laundry list of heinous crimes and deposed. One of John's associates, a layman named Leo, was then elected pope. He underwent the now familiar practice of being made sub-deacon, deacon, priest, bishop, and cardinal in a day or two. Then he was enthroned as Pope Leo VIII.
Meanwhile Pope John had found "excommunication" in his Pope's Handbook. He read the formula and excommunicated in absentia everyone at the 963 council. He invalidated all their decrees. When the coast was clear, John returned to the city and fomented a second uprising against Pope Leo; this one succeeded. John called another council of sixteen bishops, eleven of whom had participated in the previous council that had deposed him. This council deposed Pope Leo and reinstated John XII as pope on February 26, 964. Leo fled for his life.
flagrante delicto
with a young lady named Stephanetta.
[25]
Her husband evidently came home from the chariot races a little early. What transpired next is the subject of conjecture. Many claimed that the cuckolded spouse threw the pope out the window or throttled him with a cudgel of some sort. Some said that the pope, although still in his early twenties, had a stroke. Others reported that the devil himself took His Holiness's life, although it is hard to comprehend why the Prince of Darkness would want to terminate one of his best disciples. Until John's death turns up as one of the "Cold Case" files, we will probably never know. Suffice it to say that the papacy of John XII was over for good. At least he went out with a bang.
[26]
Otto said "No dice." After all, Benedict had voted for Pope Leo and had sworn to support him. The emperor laid siege to Rome, which quickly yielded. He then personally deposed Benedict on June 23, released Pope Leo from prison, and reinstated him as pontiff.
[27]
Pope Benedict glanced over to determine the emperor's reaction to this outrageous behavior. Otto's chin almost imperceptibly nodded, which Pope Benedict took to indicate that the emperor would not interfere in the dispute. Supremely confident of his skills in unarmed combat, Benedict launched a mighty leap and skillfully applied a flying head-scissors to the stunned Pope Leo. This was it; two legitimate popes, but only one would survive the first mano-a-mano conflict in the history of the pontificate – a fight to the death with no holds barred.
Well, not exactly. According to Claudio Rendina, Pope Leo really did strip Pope Benedict of his pallium and break his staff in two. However Pope Benedict's reaction was not as aggressive. He dropped to his knees, seized the emperor by his legs, and begged forgiveness. This pitiable action earned sympathy from the emperor, but not from Pope Leo. If it had been up to His Holiness, Benedict would most likely have paid a dear price for his treachery, but instead, the emperor brought Pope Benedict back to Germany and thus deprived the Romans of any reminder of the pope whom they had elected.
[28]
because of his hair color.
Both Leo VIII and Benedict V are recognized as popes. John XII's second pontificate is not recognized by the Church, and neither is the council that he called after retaking the papacy. Oh, one other thing: Otto decreed that in the future no pope could take office without the emperor's approval. The shoe was back on the other foot.
I think that Sr. Mary Immaculata may be napping. It has been a hard day. Let's not disturb her right now.
Now You See Them, …
An official book published in Milan in 1925 with short biographies of each pope from St. Peter to Pius XI contains a nice little sketch of Donus in profile. His Holiness is wearing the papal tiara and brocaded vestments. His nose is a little on the W.C. Fields side, but otherwise his appearance is unexceptional. The text reads as follows: "After the expulsion of the schismatic antipope Boniface VII, and the death of pope Benedict VI, was elected pontiff Donus II, a Roman, who governed the Church for a little more than three months. In this very brief period the history of the Papacy does not record any event. He was buried in Saint Peter's."
The descriptions of quite a few pontificates are similarly nondescript. Several popes served even less than the three months of Donus's reign. Ten popes – Stephen II, Urban VII, Boniface VI, Celestine IV, Theodore II, Sisinius, Marcellus II, Damasus II, Pius III, and Leo XI – did not last a month. Even in the twentieth century Pope John Paul I survived for only thirty-three days. The fact that Donus II was unable to accomplish much was unremarkable in the tenth century. Therefore, nothing about the entry for the second Pope Donus attracted much scrutiny from papal scholars.
Annuario Pontificio
. Surprisingly, the list of popes was a couple short of the number on the previous list. One was St. Anacletus,
[29]
who had been suspect for some time. A side-by-side audit revealed that Donus I had lost his Roman numeral, and Donus II was entirely absent. Inquiring minds wanted to know: what became of Donus II? Did the Church fathers suddenly consider him an antipope? No, he was actually declared to be a non-pope, in fact, a non-person; he never existed at all. Evidently a scribe at some point mistakenly wrote DOMNUS when he intended to write the common Latin word DOMINUS, which means Lord. Then someone else interpreted DOMNUS as an alternative spelling of DONUS, and a person who was never born began to take shape in people's minds. Who drew his picture and on what did he base it? He reminds me of a chunkier version of Phineas T. Bluster, the marionette that terrorized the dreams of my youth, minus the spectacles and plaid vest. Equally mysterious is who came up with the idea that Pope Donus was a Roman and that his pontificate lasted "a little more than three months."
Everyone in our class would have loved to ask Sr. Mary Immaculata who, if anyone, is buried in his tomb in St. Peter's.
You might think of Pope Donus II as a one-trick phony.
The revolt against Pope Benedict VI succeeded. The pontiff was captured, deposed by the conspirators, and incarcerated in Castel Sant'Angelo. A deacon named Franco was elected pope. His investiture in June of 974 proceeded without Otto's approval. When Franco assumed the pontificate he took the name Boniface VII. In July Pope Benedict was found strangled in his cell. Legend has it that Pope Boniface did him in with his own hands.
A counter-revolt was led by the pro-imperial forces in Rome. Boniface saw the handwriting on the wall. He packed up the most readily fungible Church treasures and blew town. He next turned up in Constantinople.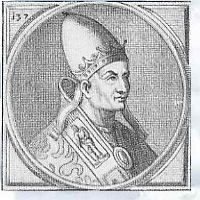 The replacement pope was named Benedict VII. Although he was not the emperor's first choice, Otto II confirmed him in October of 974. Benedict was by most accounts a pretty good pope. He is not a saint, but it is hard to find much dirt on him, and in the tenth century that is really saying something. He was followed in 983 by another German named Peter, who hailed from Pavia, the former capital of the Lombard state in northern Italy. When Peter was confirmed as pope, he took the name of John XIV. His extreme misfortune was to be the pope at the time of the premature death in 984 of Otto II, who had become nearly as powerful as his famous father. His own son and heir, Otto III, was still a child.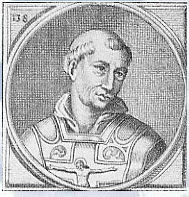 As soon as news of the death of the second Otto reached Boniface, he set sail for Rome, where he joined forces with the Crescentius family. Castel Sant'Angelo once again became the inhospitable domicile of a pontiff, this time John XIV. Somehow he got poisoned during his stay there; you just had to watch your diet carefully in those days.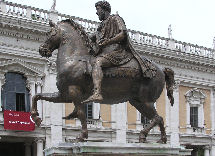 The Roman clergy felt no need to vote Boniface in again. He simply decreed that during his entire nine-year absence he had been pontiff all along and that both Benedict VII and John XIV had been antipopes. For a while nobody seemed to question his right to govern the Church. However, in 985 the Crescentius family tired of his act. Boniface was seized, and his body was beaten and mutilated. It was then dragged through the streets of Rome and dumped first at the foot of the statue of Marcus Aurelius on horseback
[30]
and then in the courtyard of the Lateran Palace. At some point during this journey the spark of Boniface's life was extinguished.
The Sorcerer and His Apprentice
But the Church of God is not subject to a wicked pope; nor even absolutely, and on all occasions, to a good one. Let us rather in our difficulties resort to our brethren of Belgium and Germany than to that city, where all things are venal, where judgment and justice are bartered for gold. Let us imitate the great church of Africa, which, in reply to the pretensions of the Roman pontiff, deemed it inconceivable that the Lord should have invested any one person with his own plenary prerogative of judicature, and yet have denied it to the great congregations of his priests assembled in council in different parts of the world. If it be true, as we are informed by common report, that there is in Rome scarcely a man acquainted with letters without which, as it is written, one may scarcely be a doorkeeper in the house of God, with what face may he who hath himself learnt nothing set himself up for a teacher of others? In the simple priest ignorance is bad enough; but in the high priest of Rome, in him to whom it is given to pass in review the faith, the lives, the morals, the discipline, of the whole body of the priesthood, yea, of the universal church, ignorance is in nowise to be tolerated .... Why should he not be subject in judgment to those who, though lowest in place, are his superiors in virtue and in wisdom? Yea, not even he, the prince of the apostles, declined the rebuke of Paul, though his inferior in place, and, saith the great pope Gregory, if a bishop be in fault, I know not any one such who is not subject to the holy see; but if faultless, let every one understand that he is the equal of the Roman pontiff himself, and as well qualified as he to give judgment in any matter.[31]
Fortunately, Gerbert soon acquired a powerful patron in the young emperor Otto III, who employed him as tutor and confidante. Otto helped Gerbert get back in the good graces of the Holy Father. Shortly thereafter, the emperor appointed Gerbert bishop of Ravenna.
Pope Gregory died in 999. Otto, who had brought his army to Italy with him, asserted his right to determine the Church's leader through the millennial transition. He picked his tutor and his idol, Gerbert, who took the name Sylvester
[32]
II. Gerbert of Aurillac was perhaps the most brilliant European of his age, or at least the most brilliant western European cleric. He was certainly among the best educated. A native of France, he had studied extensively in Spain, the southern part of which was then controlled by the Saracens. He learned algebra and the principles of clockworks in Islamic schools. The majority of western Europe that was not under Islamic control was unbelievably backward. The only schools worth mentioning were in the cathedrals, and the only course of study that they offered was in religion. A man's goal in life was to save his soul. Why bother studying anything else?
[33]
to figure out the answer to simple addition problems. Gerbert probably had acquired texts with formulas in them, not magic formulas as was widely suspected, but algebra, which was also invented by the Arabs. He had more gadgets than Batman. He built clocks and installed an organ when practically no mechanical devices could be found in Italy. He rediscovered the astrolabe, which astounded his contemporaries. He allegedly kept in his study a brass head that answered yes/no questions. None of this would have today garnered the million dollar prize offered for proof of paranormal powers,
[34]
but Cardinal Benno, writing a century after the fact, called Pope Sylvester a sorcerer. In the land of the blind, the one-eyed man is king; to the ignorant the simplest science is indistinguishable from magic.
Pope Sylvester died about a year later. It is not unlikely that the Crescentius family might have helped his demise along. For centuries legends abounded about Pope Sylvester's magical powers, including his ability to predict the date and location of his own death.
The Opening Acts
• John XVII had been married and had three sons who grew up to become priests. His half-year pontificate was not especially memorable.
What was the Holy Roman Emperor doing during this period? Nothing; there was no emperor. Otto III had no offspring, and he died without naming a successor. His cousin Henry II, the duke of Bavaria, eventually amassed enough power to be called King of Germany. However, for a time so much was on his plate that the election of the bishop of a decrepit town in central Italy merited little attention.
Gregory, the patriarch of the Theophylact family in Tusculum, had been named a count by Otto III. Pretty good sources indicate that Gregory was probably the grandson of A2. If so, that would make Popemaster J his uncle.
[35]
Gregory appointed his son, also named Theophylact, as Pope Benedict VIII. The Crescentius family installed its own pope, who was also named Gregory. The gang that supported him chased Pope Benedict from Rome, but Pope Benedict promised King Henry the imperial crown in return for his support in Rome. A sojourn in Italy sounded good to the German monarch, so he headed south, restored Benedict to the throne of Peter, and climbed back over the Alps with a shiny new crown. Henry confirmed the papal "donations," but he also reserved the right to approve or veto the selection of future popes.
Pope Benedict's relatives did not let the grass grow under their feet. Count Gregory built a Roman fleet and named himself admiral. The pope himself took command of the army. His younger brother Romanus ruled the city of Rome. The papal army won an important victory over the Saracens in 1016. The navy and the fleets of Pisa and Genoa successfully engaged the Arab fleet off the coast of Sardinia. The pope also persuaded Henry II to return to Italy to stop the advances of the Byzantines in southern Italy. One of the few legacies of Benedict's papacy not earned on the battlefield was the condemnation of simony, the long-established policy of selling clerical offices. However, his condemnation did not stifle the practice.
Pope Benedict died in April of 1024. The emperor died two months later. Count Gregory appointed his second son Romanus to the papacy as John XIX. In order to assure support for Romanus, the family prudently ignored the ban on simony and distributed cash among influential Romans. It worked.
Romanus wasn't a priest, but this was no longer a serious impediment. He reportedly became a deacon, priest, bishop, and pope, all in one day, which still stands as the world record. As Pope John XIX he crowned Conrad II as the Holy Roman Emperor. When Romanus became pope, the civilian authority in Rome was handed over to a third brother, Alberic, the long-awaited A3. When Pope John XIX died in 1032, it was A3's turn.

The Once and Future Pope
Like A2, A3 wasn't after the papacy for himself; he was content to manage the civilian sector. Instead he expended a fortune buying votes for his young son, whose name was – wait for it – Theophylact. How young? Well, the Church claims that he was around twenty. Others have reported that he was as young as eleven. It would take Sr. Mary Immaculata's acumen for divine mysteries to explain how a kid still eligible to play Little League ball could possibly be confused with a junior in college. At any rate, when he became Pope Benedict IX, either he or his great uncle Octavian was in all likelihood the youngest pope ever.
Liber Gomorrhianus
, written by St. Peter Damian within a decade of Benedict's time, asserted that Benedict IX "feasted on immorality." The saint depicted the pope as "a demon from hell in the disguise of a priest."
[36]
For his tenth birthday young Theophylact had begged his parents for a brown and white pony with a white tail. A3 and his wife intended to oblige the wishes of their pride and joy, but they weren't paying close enough attention. They presented him a very attractive brown and white pony, but its tail was brown.
The next year his parents did better by Theophylact. On his eleventh birthday they gave little Theo exactly what he had asked for – a pontificate to call his own. After he had been enthroned as Pope Benedict IX, he used the document from the belfry as a checklist to measure the progress of his own reign. The Lateran Palace was frequented by plenty of world-wise cardinals (not to mention the occasional prostitute) who could help the young pontiff with difficult words and phrases.
In at least one respect Benedict failed to measure up to the standard set by John XII. He refused to appoint his horse Senator; that office went to his older brother, Gregory, who must have done a pretty good job because history has essentially ignored him. Besides, the sight of his horse's brown tail annoyed His Holiness every time that he visited that worthless nag in the pontifical stables.
The still youthful pope's rule soon reached another turning point. Shortly after scrawling the final checkmark on his list of John XII's ignominious feats, he got the hots for a young lady. Rome and the girl's father, however, were not quite ready for a papal marriage. Benedict was willing to abdicate, but the only occupation that he knew was poping. He had taken the tiara at such a young age that he had never even delivered newspapers or flipped burgers. Such a skimpy résumé would preclude landing a coveted job as an investment banker. How would he support his new bride in the style to which they both had grown accustomed?
Benedict's brainstorm elevated him into a league of his own; he decided to sell the papacy, and a buyer surfaced not far afield. His own godfather, an archpriest named John Gratian, was willing and able to pay Benedict a large quantity of gold or silver.
[37]
Furthermore, the income from Peter's Pence – a 1 percent tax levied on English peasants – was allotted to Benedict to assuage his transition to civilian life. John Gratian became Pope Gregory VI.
"S'ter, what happened to Pope Benedict after that?" One legend related that he persisted in his quest for the papacy for decades. Cormenin credits him with five pontificates![38] Another story insisted that he repented and became a cloistered monk. The latter account is surely preferable, even if it is hard to imagine what kind of abbot would accept a novice with his track record. Whenever a scholar examines a document copied and recopied by monks through the centuries, he/she should contemplate whether it might have passed through the hands of that world-class trickster, Benedict IX, and, if so, what might his contribution be.
I have to wonder what would have happened if, during my time in Sr. Mary Immaculata's class, I had stumbled across a book about the conduct of the popes of the tenth and eleventh centuries. What would S'ter have done after she read my book report? Two ugly pictures emerge: One involves a hastily called meeting with my parents featuring tight-lipped faces. The other is even worse; not even a smart-alec wants to see a nun in tears.